Rohingya refugees living in Cox's Bazar have survived horrific violence and forced displacement in Myanmar, and are now facing the devastating effects of COVID-19 in the world's most densely concentrated refugee camp. MedGlobal has been working in Cox's Bazar since 2017, serving more than 130,000 Rohingya refugees and vulnerable members of the Bangladesh host community alongside dedicated local partners OBAT Helpers and Prantic. Our health clinic provides a wide range of health services, including pediatrics, family planning, women's health, and management of chronic conditions like diabetes.
Before and during the pandemic, local Rohingya and Bangladeshi health workers have stepped up to serve their communities and help MedGlobal maintain strong core health services.  
Here are the stories of 8 of our patients and incredible health workers in the clinic.
1. Meet Dr. Sanzida, who works at the clinic's emergency room and treats children in the pediatrics department. One of the incredible health workers at our clinic is Dr. Sanzida, who works at the clinic's emergency room primarily treating burns and cuts. She also treats children in the pediatrics department, counseling them and providing advice about personal hygiene options. Her words say it all:
"Healthcare is one of the most important basic needs for human beings. Rohingya refugees have a right to receive health services."
2. Meet Yasmin, a 13-year-old patient. In the most densely populated refugee camp in the world, access to health services is critical. Thirteen-year-old Yasmin is one of our patients in Bangladesh. When she came into the clinic after cutting open her foot, she said to the health staff:
"I know doctors here will reduce my pain."
3. Meet Shahida, a local midwife. Shahida has been working as a midwife in the clinic since 2018. She serves Rohingya refugees, providing critical family planning and reproductive health services to patients. Her outreach, work with, and care for pregnant patients is invaluable. Shahida recently spoke about an increase in requests for family planning services as more information became available within the community:
"Earlier there was some resistance around using family planning methods. Now, with more information, the situation is changing."
4. Dr. Junayed, a dental surgeon. Dr. Junayed is a dental surgeon working at our Cox's Bazar health clinic. There are limited dental facilities in the Rohingya refugee camps, so Dr. Junayed attends to patients of all ages facing severe dental problems. His work is critical, and often life-saving. He said:
"We leave the clinic every evening, knowing that tomorrow, another full day awaits us."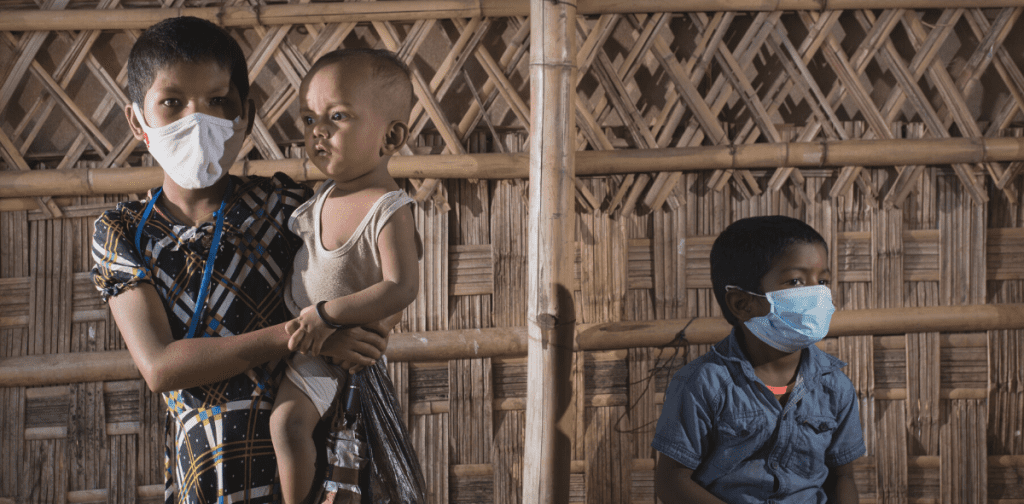 5. Here is Asma and her little brother Ashikur. Our Cox's Bazar clinic supports Rohingya refugee children like Asma and her baby brother Ashikur with free health services. Our health staff believe that every child deserves healthcare. Asma recently told us:
"My mother always comes to this clinic when Ashikur cries. Magically he stops crying after we visit the clinic."
6. This is Nasima and her newborn baby. Nasima is a 20-year-old patient at our clinic in Bangladesh. She received health services at our clinic throughout her pregnancy, and now she comes in for postnatal care. Here she is visiting with her 16-day-old baby boy. She said:
"I have visited this clinic during my pregnancy, and doctors here are very supportive. This clinic is very good for babies."
7. This is Helal, who works in the clinic's pharmacy. Helal, who is 27-years-old, has been working at the clinic's pharmacy for the last four years, supporting patients and dispensing medicine. He is passionate about ensuring patient safety:
"I think my role here is really important. I have to explain the doses of medicine properly, otherwise it could be dangerous for patients."
8. This is Dr. Rahana – a physician serving numerous patients, who is also the Clinic Coordinator. MedGlobal is lucky to have Dr. Rahana oversee the clinic options, as well as serving patients, primarily those who are seeking treatment for non-communicable diseases. She has cared for countless Rohingya refugee patients. Dr. Rahana recently told us:
"Healthcare, like food, water, clothing, shelter, sanitation, and education, is a human right. As a humanitarian healthcare provider, I would like to tell the world: please don't forget about Rohingya refugees. They need justice. They are in a situation where they have only bad flashbacks."