Syria-Turkiye Earthquake Response
In response to the Earthquake in Turkiye and Syria, MedGlobal deployed a team of 12 volunteer physicians from the USA, the Netherlands, and Turkiye of different specialties to the affected areas to assess the needs of the population and provide medical care to those in need. The organization also provided medical supplies and equipment, including medications, first aid kits, and surgical supplies, to local hospitals, health centers, and our mobile clinics.
Keeping Gaza Healthy
MedGlobal Gaza provides high-quality medical services to all segments of the population, including the elderly, women, children, and the most vulnerable in the Gaza strip. Our Medical training and services are one of the first lines of response during escalations and wars. The medical services included patient treatment and care, medical devices, medicines, medical tools, capacity building, awareness workshops, and more. In the past few years alone MedGlobal programs have provided support to 150,726 direct beneficiaries and 1,168,974 indirect beneficiaries.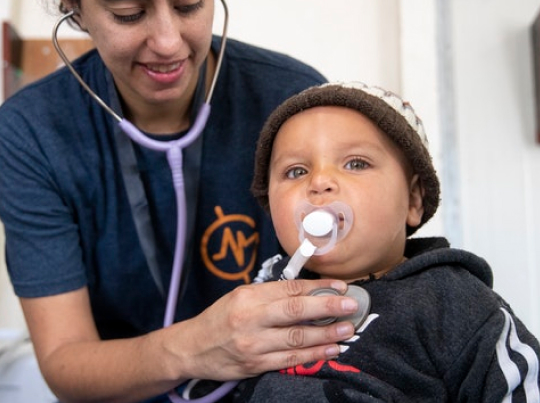 Support Rohingya Refugees
After decades of facing ethnic cleansing and violence in Myanmar, the Rohingya, a Muslim ethnic minority and stateless group, were forcibly displaced in mass to Bangladesh in 2017. Now, more than 900,000 Rohingya refugees live in the world's most densely populated refugee camps in Cox's Bazar, Bangladesh. The living conditions are poor and over the past year, large fires have destroyed tens of thousands of shelters, further displacing Rohingya refugee families.
Since October 2017, MedGlobal has been working with local and international partners in Bangladesh to provide critical primary health services for Rohingya refugees and vulnerable Bangladeshis.