About Point of Care Ultrasound (POCUS)
Advancements in the field of ultrasonography have revolutionized primary care within the past decade. POCUS is becoming an important tool for making timely and accurate diagnoses, and is being integrated into medical school curricula in high-income countries. In resource-limited settings too, POCUS has proven to be a low-cost, efficient method to aid in the diagnosis and management of life-threatening conditions.
The efficacy of POCUS in resource-limited settings stems from a number of factors, which overcome the barriers associated with other diagnostic equipment, including X-ray and MRI machines. For example, WHO protocols mandate at least a 23-cm clay wall around every X-ray machine, with an additional 2-mm lead sheeting for drywall; running water and film is critical to image development. In contrast, current POCUS technology is portable, can be recharged while not in use, and requires only a single disposable: a gel-based contact medium. Most significantly, POCUS is easy to learn and produces images that are simple to read.
Timeline of work
In 2019, MedGlobal collaborated with an inspiring group of ultrasound-certified volunteer physicians to launch a POCUS program in Gaza, Pakistan, and Yemen.
In 2020, MedGlobal partnered with international NGO Bridge to Health USA to launch another POCUS training in Yemen. Sixteen trainees in Hadramout governorate are learning diagnostics for pediatric lungs, pregnant women, and trauma patients.
In 2021, MedGlobal began training doctors in Bangladesh on lung POCUS. These trainees will use their POCUS skills to diagnose Rohingya refugees living in the Cox's Bazar refugee camps.
In 2022, MedGlobal launched POCUS training programs in:

Gaza: 50 trainees completed trauma POCUS training
Colombia: Venezuelan doctors are learning trauma and obstetric POCUS
Ukraine: training is ongoing for trauma POCUS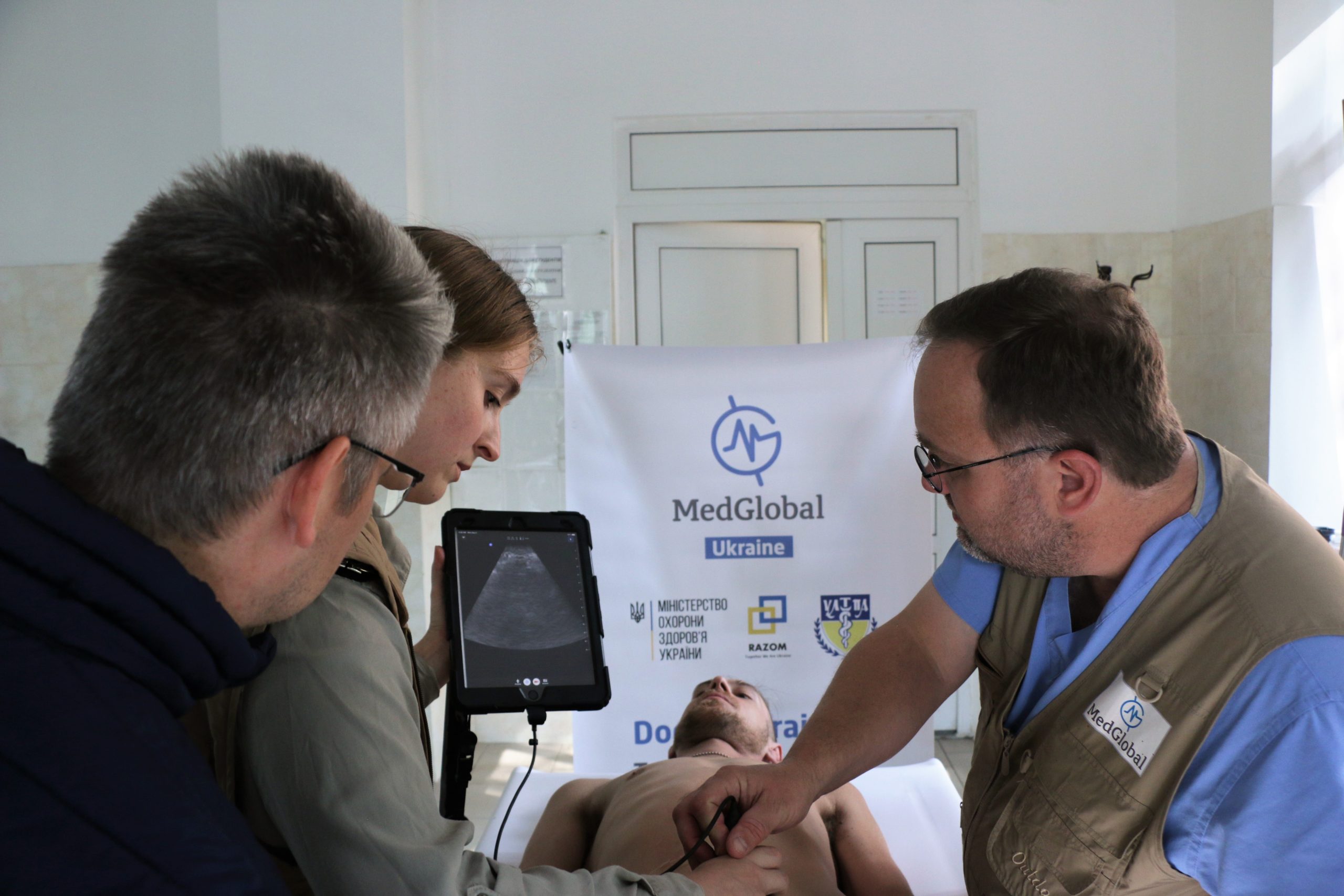 MedGlobal approach
While POCUS training is typically offered in person, MedGlobal's Bangladesh and Yemen sites are employing an innovative virtual training model. MedGlobal aims to train the trainers (ToT); this means that top performing trainees are prepared to train other local clinicians after sufficient practice. The ToT model encourages sustainability of the training program; once local trainers establish, the program no longer requires international input.
Whenever possible, MedGlobal uses rechargeable, portable POCUS devices, such as the Butterfly iQ. This makes it possible to diagnose patients in the field.