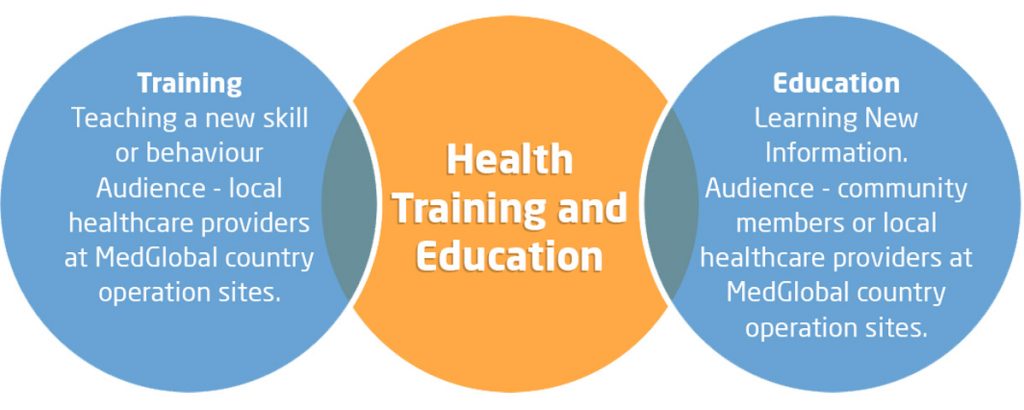 Training
MedGlobal knows that human capacity building is an important part of improving health systems. We build the capacity of local health care providers that work at our country operation sites by providing needs-based, culturally-considerate training. This helps them to develop the skills and behaviors that they need to provide excellent patient care. MedGlobal's most popular training programs–those that are most frequently requested by our local partners and/or identified as needed through needs assessments–include:
Essential Newborn Care Now! (ENC Now! – formerly Helping Babies Breathe): an educational program using basic interventions to provide newborn resuscitation and reduce preventable newborn deaths in resource-limited settings. ENC Now! is an inter-agency evidence-based educational program developed by the American Academy of Pediatrics and global partners. MedGlobal has taught ENC Now! courses in Bangladesh, Pakistan, and Yemen.
Point of Care Ultrasound (POCUS): In resource-limited settings, POCUS has proven to be a low-cost, efficient method to aid in the diagnosis and management of life-threatening conditions. MedGlobal primarily uses portable, rechargeable "Butterfly iQ" ultrasound machines, which are well-suited for use in the field. Trainings have focused on: trauma diagnosis, pediatric pneumonia diagnosis, obstetrics, and other key topics. Trainings have taken place in Bangladesh, Colombia, Mexico, Pakistan, Palestine, Ukraine, and Yemen.
Our POCUS medical education content is thanks to our many volunteers, click below to learn about them!
MedGlobal has also offered training in Critical Care in Low-Resource Settings; Empathy and Compassion; Disaster Management; Mental Health Training; Infection Control; Management of NCDs; Nursing Training in ICU and Neonatal Units; Emergency Medicine; General Medicine; and Surgical Techniques.
Since the onset of the COVID-19 pandemic, more of MedGlobal's training and educational initiatives have moved to a virtual format. For example, while POCUS training is typically offered in person, MedGlobal's Bangladesh and Yemen sites are employing an innovative virtual training model.
Finally, MedGlobal aims to train the trainers (ToT); this means that top performing trainees are prepared to train other local clinicians after sufficient practice. The ToT model encourages sustainability of the training program; once local trainers establish, the program no longer requires international input.
Education
Like our trainings, MedGlobal's educational initiatives are also designed to address needs that are identified by our local partners, by our field teams, and by the communities living in the areas where we work. These communities of refugees and other vulnerable people have unique needs, stemming from their exposure to war, climate change, and other stressors. We offer education for local health care providers and for communities, and our education can address;
Acute needs that arise in response to new problems

For example, MedGlobal educates individuals and communities who are hesitant about COVID vaccine hesitancy. MedGlobal conducted a hesitancy study in northwest Syria, revealing some of the reasons for low vaccination rates and enabling more effective vaccination campaigns.

Long-standing needs that persist in response to ongoing problems.

For example, the need to educate pregnant women on healthy habits to promote smooth pregnancies and healthy babies. In order to serve hard-to-reach individuals and communities, MedGlobal offers health education through all of our mobile team, home health, and community health worker programs: in Bangladesh, Lebanon, Palestine, Syria, and Ukraine.