Each month, MedGlobal publishes a monthly Field Operation Update, highlighting our humanitarian and health programs around the world. MedGlobal supports healthcare in Bangladesh, Colombia, Ecuador, Gaza, Greece, Lebanon, Sudan, Syria, and Yemen, and has been contributing to the COVID-19 response in the United States. These monthly blog posts provide a snapshot of some of our most notable program updates from the past month. For more frequent updates, make sure to follow us on Facebook, Instagram, and Twitter.
Bangladesh
In collaboration with Prantic and OBAT Helpers, MedGlobal provided a major distribution of personal protective equipment (PPE), medical supplies, and other health and hygiene equipment to health clinics in Cox's Bazar. This medical distribution is supporting Rohingya refugees in the camps, as well as the Bangladeshi community in Cox's Bazar town. The medical equipment included the most critically needed supplies to prevent and respond to the spread of COVID-19, including oxygen concentrators, portable ventilators, over 700 PPE sets, infrared thermometers, and more. This distribution also included 7 handwashing stands that went to the host community in Cox's Bazar. They are stationed at various high-traffic areas, such as outside temples and public toilet spots.
Gaza
The rapid spread of COVID-19 in Gaza continued into November. In partnership with Rahma Worldwide, MedGlobal provided a shipment of 75,400 PPE items as well as sanitizing supplies to the Kamal Adwan Hospital in Gaza in November. MedGlobal's Gaza Program Manager Raja commented, "As COVID-19 continues to spread so rapidly in Gaza, masks and other PPE are critical to protect the few health workers available to treat those affected."
MedGlobal also continues to support the salaries of staff in Kamal Adwan Hospital's Pediatric ICU Department. This month, MedGlobal increased the number of staff we're supporting to 20 doctors and nurses. This emergency pediatrics department is critical, particularly as the people in Gaza are cut off from external healthcare, and its medical staff have saved over 100 children's lives. Gaza is home to two million Palestinians, nearly 80% of whom rely on humanitarian assistance and live in overcrowded areas with poor living conditions.
Lebanon
MedGlobal has continued its medical response in Beirut, aimed at supporting overwhelmed health facilities facing increased levels of medical need and a medication shortage in Lebanon. In partnership with Baitulmaal, MedGlobal delivered two rounds of medications to the Rafik Hariri University Hospital in Beirut, which will provide critical treatment for hundreds of patients facing emergency health issues as well as non-communicable diseases. During the distribution, our Lebanon team commented: "They have been out of stock of some of these medicines for quite some time, and they are life-saving."
Syria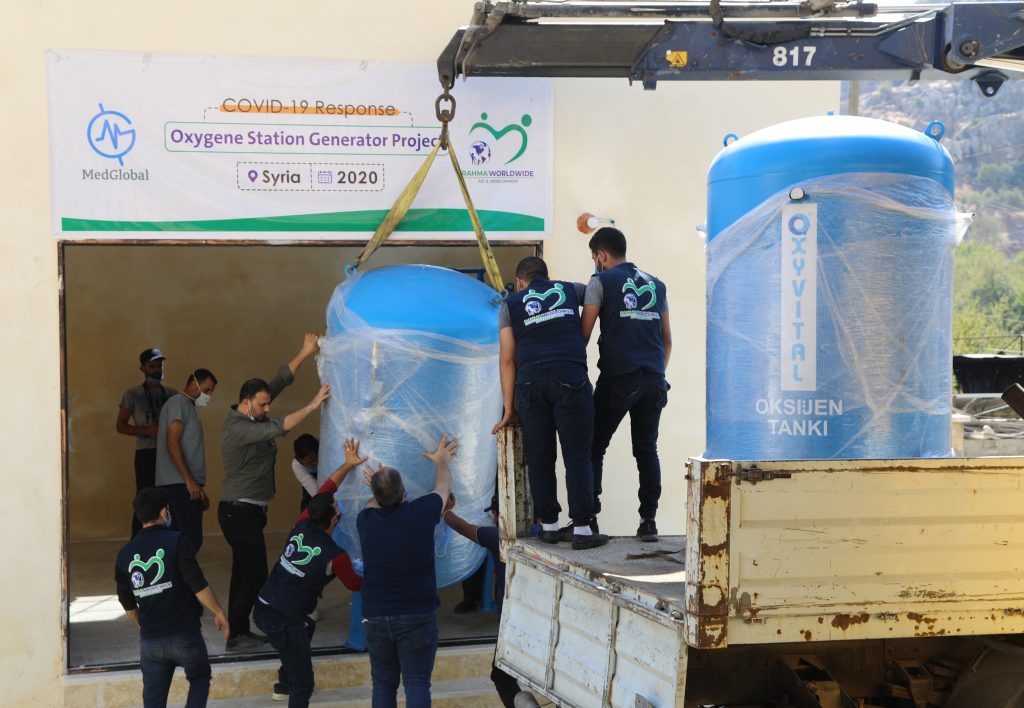 In northwest Syria, there are now between 300-500 new confirmed COVID-19 cases each day. With a health system destroyed from war, local health workers warn that a health catastrophe may be imminent. MedGlobal, alongside our partners Rahma Worldwide and Violet Organization, began the installation of two major oxygen generators: one in Idlib City and one in Darkoush, northwest Syria. These generators will help supply health facilities, especially those leading in COVID-19 treatment, with critically-needed oxygen. Health facilities in northwest Syria have been facing an increasing demand for oxygen cylinders with the rapidly increasing number of COVID-19 patients who face severe symptoms, including difficulty breathing. This oxygen supply will have a lasting impact for local communities.
In addition, MedGlobal continued its distribution of 200 oxygen concentrators and 100 CPAP/ BIPAP machines in partnership with local independent NGOs throughout Syria, including to Aleppo, Damascus, Homs, Latakia, Hama, Zabadani, Bludan, and Safita. The provision of oxygen and these non-invasive ventilators are critical for people with difficulty breathing, primarily those suffering from severe COVID-19 symptoms. MedGlobal is also distributing 2,500 pulse oximeters, devices to measure the level of oxygen in your blood, which were also requested as critical based on local needs assessments.
United States
Domestically, MedGlobal is committed to supporting health facilities that focus on supporting particularly marginalized and underserved communities. These communities are disproportionately affected by COVID-19 with both higher rates of infection and mortality from the virus. In November, Illinois saw a spike in COVID-19, with the daily rates consistently over 10,000 new cases and 100 deaths per day. Hospitals became increasingly stretched then. In November, MedGlobal donated an additional 1,000 PPE items to Saint Anthony Hospital in Chicago to help with their COVID-19 response. Saint Anthony Hospital is a safety-net hospital that primarily treats underserved communities of immigrants, people of color, and those facing economic hardship.